Marga Mulino Help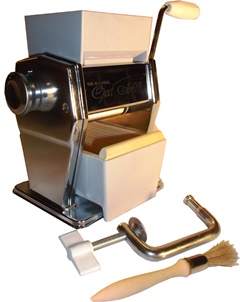 If you need help with your All-Steel Marga Mulino™, we are glad to help. Please email us at:
You can also find answers in the Marga Mulino owners' manual.
More Information about the Marga Mulino Grain Flaker
Want to know more? Read about using the Marga Mulino. Also, study the Marga Mulino's whole-grain health benefits. Already love your own grain flaker? Check out our Marga Mulino recipes.
Marga Mulino Grain Flaker Warranty
The manufacturer warrants this product to the original purchaser to be free from defects in material and workmanship, under normal use, for a period of three years from the original date of purchase. During this period any part found to be defective will be repaired or replaced. To obtain warranty service, please have your dated sales receipt available and contact the place of purchase. This warranty does not cover damage caused by accident, misuse, commercial use, neglect, improper maintenance or normal wear. Manufacturer's liability under this warranty shall not exceed the purchase price of this product.