Marga Mulino Care & Maintenance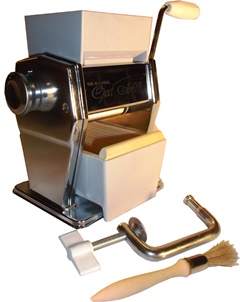 The Marga Muino grain flaker is made of high-quality materials and is accurately regulated in the factory. It does not need any special maintenance. However, we include some tips for use:
Never wash this machine with water or detergents. The rollers are steel, so water will cause them to rust. After rolling grain, clean rollers using the wooden brush supplied with your Marga Mulino. The plastic hopper and catcher may be removed and washed with soap and water. Dry thoroughly before using again.
This machine is to be used for soft grains (oats, rye, barley, buckwheat, soft wheat, and spelt). It is not meant for grinding beans, nuts, seeds, hard grains, or corn. You might want to test the softness of the grain you plan to flake. Simply place five kernels between your molars and gently try chewing them. If they crack or crunch, then they are hard grains. If they smash, then they are soft and should flake well.
Do not attempt to flake wet grain in the Marga Mulino.
To remove the hopper, grasp it firmly with both hands using your thumbs as leverage and gently rock it backward or forward.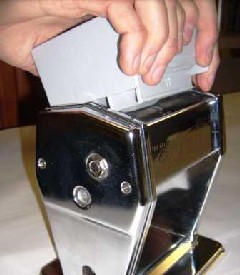 Lift the opposite side with your fingers.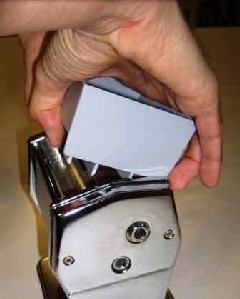 Want to know more? Read about using the Marga Mulino. Also, study the Marga Mulino's whole-grain health benefits. Already love your own grain flaker? Check out our Marga Mulino recipes.