Using Your Marga Mulino Grain Flaker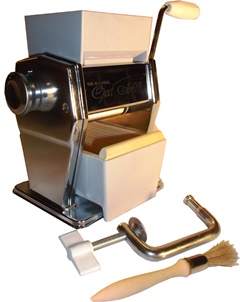 Flaking oats or other grains in the Marga Mulino is easy—children can (and love to) turn the handle and watch the flakes fall through the machine.
Attach the flaker to a table or countertop using the included clamp.
Fill the hopper with grain.
Insert the handle into the side hole and start grinding!
Adjusting the Grain Flake Size
The distance between the rollers can be changed by using the regulating knob, which has three positions:
Coarse grind
Coarse, old-fashioned flakes
Thinner, rolled flakes
The Marga Mulino will not make flour for baking. The coarse grind (setting 1) will crush the grain, making a meal smaller than the flakes. This meal will cook faster than flaked grain. It can be added to bread dough to enhance texture, but is not intended as the main flour ingredient for baking.
Want to know more? Study the Marga Mulino's whole-grain health benefits. Already love your own grain flaker? Check out our Marga Mulino recipes.